Welcome to
Victoria North
The North of England's biggest urban regeneration project
Victoria Riverside marks the first phase of Victoria North (previously Manchester's Northern Gateway), the biggest renewal project Manchester's ever seen.
What is Victoria North
Jointly developed and funded by FEC and Manchester City Council, Victoria North is set to create 15,000 new homes across 155 hectares and seven neighbourhoods over the next 20 years, helping with the shortfall in housing in Manchester.
The redevelopment project will create better-connected public spaces, new and improved transport links, and more homes, parks and retail spaces for the city's growing population.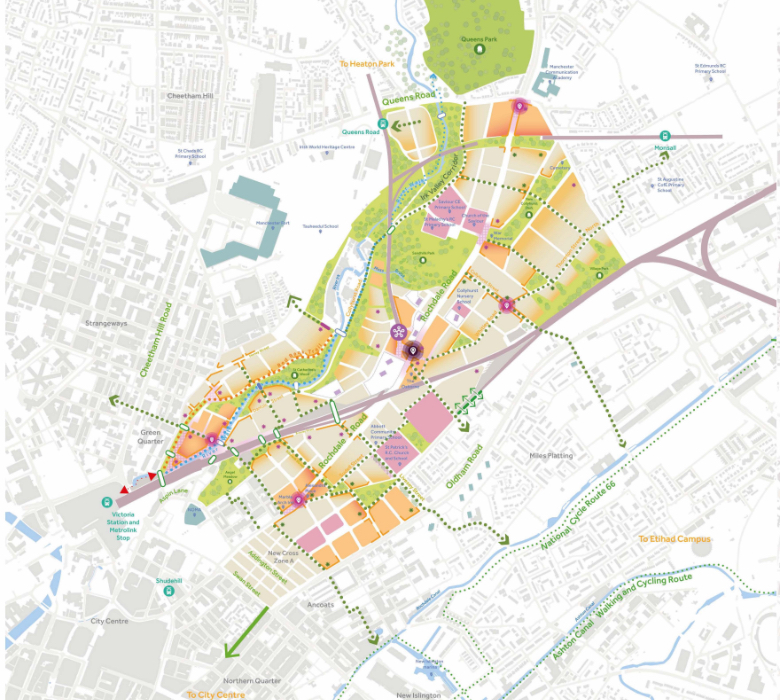 Over
Gross Development Value (GDV)
Phase one of the New City River Park
A planned new community of over
People
Over
Homes already secured planning
Expected completion of
Homes per year
New schools, healthcare facilities and transport links
A New Park For The People
At the heart of the regeneration is the City River Park which covers 46 ha of new and improved parkland, it will become one of Manchester's largest city centre green spaces. The park will vary in character providing a diverse and active new recreational corridor for the community including parks and smaller amenity spaces.
City River Park will enhance existing habitats and create new habitats for wildlife and be guided by climate positive design to create results which as carbon neutral as possible. Connectivity and accessibility are also key ensuring high quality pedestrian and cycle movement within luscious green spaces for active lifestyles and well-being.